Turn-key Robotic Palletizer
Designed and built by ONExia, experts in automating end-of-line processes with collaborative robots.
The PalletizHD is not a kit! See why you need the "HD" at the end of your packaging line.
Why choose a PalletizHD for your packaging line?
Placing boxes or cases onto a pallet in a pattern is an application that is perfect for robots. The repetitive task of palletizing has become the go-to solution for manufacturers looking to streamline packaging operations.
Programming a collaborative robot to pick and place the same sized case is not very difficult. Once learned, the robot can perform the task endlessly.
The difficulty arises when cases need to be placed into a pattern on a pallet. What additional hardware do you need? How do you create a configuration? What happens if the line changes over to a new case size? Will the cobot still be safe to interact with while in production?
The PalletizHD is the flexible, turn-key solution that eliminates all these concerns.
Drag and Drop Pallet Building
The secret is in the software. Robotic automation without writing a line of code.
What makes our cobot palletizers different is the software. Developed by ONExia Robotics, the software can handle almost any box size and pallet configuration.
Simple interface - designed for non-technical end users
Pallet library - build, edit, and save hundreds of pallet configurations
Admin controls - limit access based on user credentials
Dual mode - tend two separate lines with on PalletizHD
A step by step walkthrough of setting up a new pallet configuration.
Customize Pallets
Create any layer configuration
Orient shipping labels
Add slip sheet between layers
Data communication
Signal AGVs to remove pallets
Monitor system output in real time
Interact with inventory software
System fuctionality
Operated through a single touchscreen
Adjust safety scanner zones
Built-in conveyor controls
We made collaborative robot safety a priority.
Third party verified to meet industry safety standards, the PalletizHD is fully collaborative and requires no caging or hard guarding to operate. Multiple customers have also done internal risk assessments prior to purchasing and the "HD" has passed every time.
See how easy it is to add a PalletizHD to an existing packaging line.
The PalletizHD is not a kit.
A fully collaborative rated, turn-key palletizing solution.
The "HD" is designed with the features needed to automate palletizing safely and successfully with a cobot.
Minimal footprint - no caging or guarding needed to operate
Quick deployment - requires a 110v outlet and an air line
Portable - built-in fork pockets within the welded base
Multi-pallet reach - stack pallets on either side of the cobot
Flexible design - easily adjusted for new pallet configurations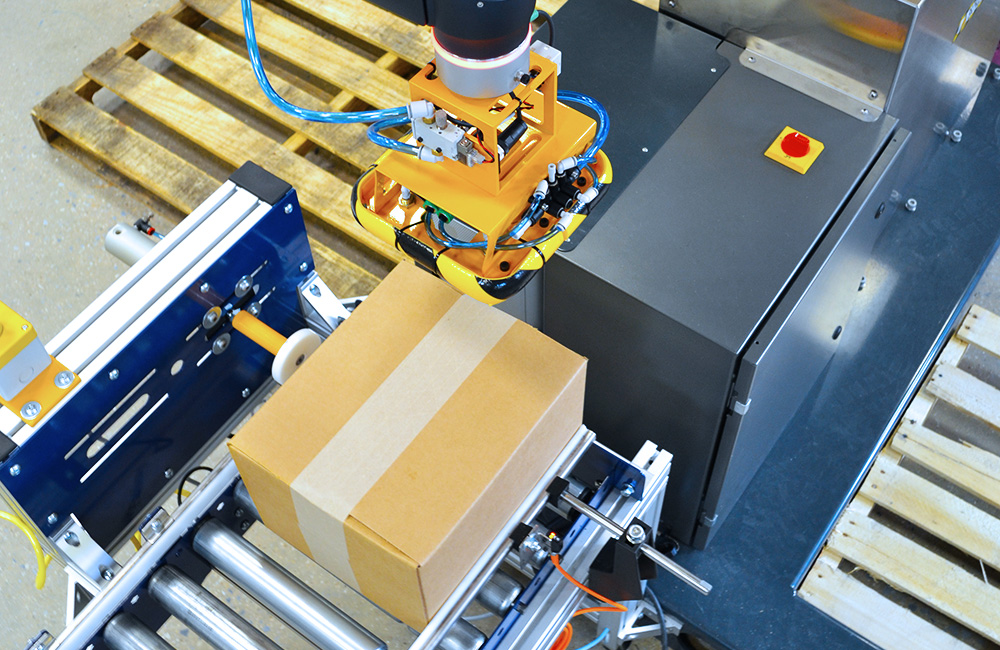 Collaborative Robot Specialists
A robotics integrator specializing in packaging automation using cobots.
Every PalletizHD comes with the service and support needed to assure system deployment is a success.
Custom accessories - conveyors, grippers, and slip sheet racks designed specific to every application
Machine safety - collaborative rated palletizers and integrated safety controls on conveyors
Support & training - a full team of engineers to assure a successful cobot deployment
Using the custom vacuum end-effectors and infeed conveyors designed by ONExia, the "HD" is ready to handle different case sizes in minutes.